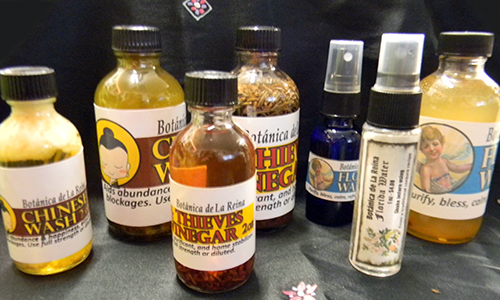 Washes and waters are cleansing, empowering, and consecrating products intended for use on people (you, for instance), places (your home, your working space), or objects (your sacred tools). All prices listed below include shipping. Please see our Learning library in the main menu for instructions for using these products.
FLORIDA WATER
Florida means "flower," so this is not water from the state of Florida, but flower water that is refreshing and invigorating, so much so that athletes keep it in ice chests to cool them down quickly during events.
Florida Water has an alcohol base, so there is no actual H2O water involved with the creating of this wonderful liquid. It does, however, include ridiculous amounts of citrus and flower essence oils. When Florida Water is applied, any remaining alcohol scent immediately evaporates leaving a long-lasting floral-citrus scent. You can use Florida Water in your bath, for anointing, or as cologne. Do not ingest.
4 THIEVES VINEGAR AND CHINESE WASH
4 Thieves Vinegar and Chinese Wash are a one-two punch to disinfect, both mundanely and spiritually, and empower a home or sacred space. We used this pairing aggressively at our shop, then sprinkled brick dust over the threshold, to make certain the environment was positive, joyful, and empowering and that only those intended to enter could do so. We make our 4 Thieves Vinegar and Chinese Wash from traditional recipes.
Chinese Wash removes crossings/curses, banishing bad luck, and purifies an area. Chinese Wash blesses, empowers, and opens doors for good luck to find you. Use 2-3 Tablespoons in your cleaning water or use straight on a clean sponge to wipe down your thresholds, stairs, walls, doors, and door frames.
Four Thieves Vinegar is a purificant that finds the balance point in your home and returns the energy inside it to a natural rhythm. It stills chaos, eliminates stress and drama, and washes away negativity and bad luck. Use it to clean and bless thresholds, stairs, walls, doors, and door frames.
Prices include shipping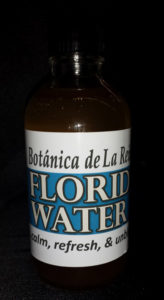 4 oz Florida Water
Florida Water - 4 oz bottle
$15.00

1 oz Florida Water
Florida Water - 1 oz spray
$8.00
4 oz Four Thieves
4 Thieves Vinegar - 4 oz bottle
$15.00
4 oz Chinese Wash
Chinese Wash - 4 oz bottle
$15.00
Error! You must specify a thumbnail image for your product in the shortcode.
Please follow and like us: