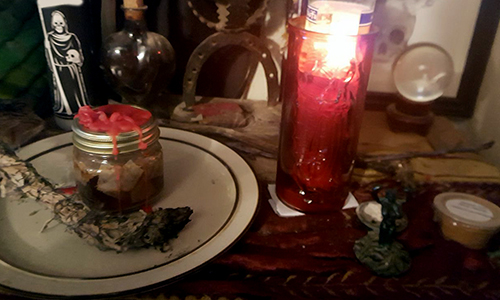 Two Sisters Botánica specializes in performing magical work for other people, either for reasons of privacy or because they wish accomplished practitioners to work on their behalf. Eric and Katrina offer several types of magical services to the communities both online and in the Sacramento and El Dorado County areas of California.
Personal Work
Setting the lights $35.00 – Can't do the magical work yourself? Katrina will perform candle spellwork for you. You will receive a photo of the candle burning on her altar, then a full report on how the burn progressed, including photos of how the candle looked burning and afterward. The cost is $35.00 for basic work, which includes the candle.
Includes candle, photos, and full report. Please email to discuss your specific situation.
---
Witch's bottle/Honeypot/Vinegar Jar $35.00 – Let us know what you want to accomplish and we will create a Witch's bottle, vinegar jar, or honeypot to make it happen. The cost includes a sealed bottle with all appropriate ingredients inside and the execution of the spellwork by us. Includes bottle, ingredients, and instructions. Please email to discuss your specific situation.
---

Rites of Passage Ceremonies
In America, we have largely lost the art of marking significant transitions in our human lives.  Katrina and Eric are honored to assist you in reclaiming that practice and celebrating the thresholds over which you cross.  The cost for the writing and facilitating these rituals is highly individualized depending on the wants and needs of the client, location and length of the event, etc.
Fertility Blessings
Baby Blessings (Similar to a Christening)
Coming of Age (Usually around age 13, male or female)
Adulthood Blessings (Going into the world, starting college, etc)
Weddings/Handfastings (Licensed ministers)
Croning/Saging/Eldering
Death Passage
---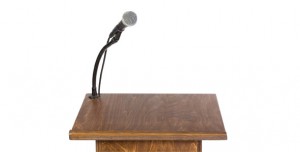 Public Speaking/Lectures
Katrina is available for public speaking and lecturing on a variety of different metaphysical subjects. She also teaches classes in groups of five or more upon request. Please email to discuss. For information on our workshops and private classes, click here. Eric and Katrina also teach free classes on the magical arts at LightWeavers Academy in Citrus Heights, California (Sacramento area). They also lecture at Patheacon in San Jose, California, and at PanGaia Festival and Sacramento Pagan Pride Festival in Fair Oaks, California.
---
Guest Blogging
Going on vacation and need someone to step into your blogging shoes?
Katrina has been an online blogger since 1998 and has a working knowledge of a number of different subjects. Drop here a line and see if she is open to writing about your topic.
---
Tarot Readings

Katrina is available to perform Tarot readings for parties and events at a cost of $100 per hour.  Email for details.
Please note that she does not dress in gypsy-wear and work from a "fortune-telling" perspective. Her consultations are moving, intuitive experiences designed to help the client identify obstacles to their success and chart a course for greater joy and abundance in life.
Katrina offers personal Tarot readings by remote. She will send you a video or written report of your reading. Because she reads by remote, it is usually not possible to book a reading immediately. She will contact you within 24 hours of your order to let you know when she can get to your reading. Please email Katrina to discuss the focus of your reading after you place your order.
Tarot Reading – $65.00
---
Please follow and like us: