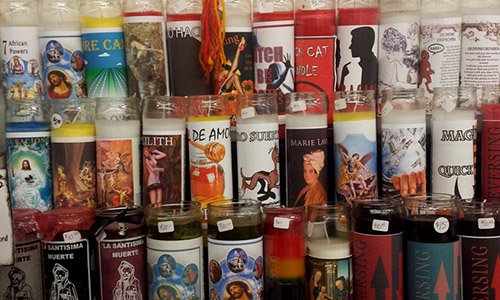 Fixed Candles:
Fixed candles, also known as prayer candles, get their name because a particular purpose is "fixed" into them. We have a stunning, beautiful array of 5-day glass fixed candles. We will also custom make a prayer candle for you upon request with an image and words tailored to your specific need. We use quality glass candles with the premium herbs and our handcrafted oil blends.

---
CUSTOM CANDLES:
When you order custom candles, please email us to let us know to what purpose we should dedicate the candle. Also please attach any particular image you wish to have on the candle in the highest resolution possible (please and take note of any usage or copyright restrictions). We can also create a special candle for your unique need if you do not see one listed in our existing selection below. You will receive a candle designed by us and blessed to support your purpose.
Please note that the cost of a custom fixed candle STARTS at $22.00 for a very basic candle similar to the one depicted above.  A "custom" candle is one where we create the image or use a special image provided by you that goes on the candle for your specific circumstances rather than choosing from our stock. If your project requires extensive graphic design, the price is higher. Please email us for an estimate. [Note that most candles are not more than the usual $22.00, which includes shipping, your candle, and the time and labor to design your candle to your specifications. Most custom candles take approximately an hour to create and fix, plus all of our candles are shipped by Priority Mail for insurance purposes.]
Custom Fixed Candle $22.00
---
SETTING THE LIGHTS:
If you do not wish to do the working yourself, we will set the lights for you and move the energy as you specify. This includes blessing and dressing the custom candle to your purposes, burning the candle on our personal altar, monitoring the process, and then sending you photos of the candle burning and after the work is concluded, complete with a report of the burning process.
Email us for more information on this process and to specify your goals for the work.  
Set the Lights (includes candle), $35.00
---

OUR FIXED CANDLE SELECTION:
Next to each candle is a thumbnail of the candle. You may click it for a full view. Candles may be yellow, white, blue, or red as is appropriate to the goal of the candle. When dressing the candle, we use oils, herbs, and other materials that are sympathetic to the goal of the candle, then cover the top of the candle with plastic. Candles will burn for approximately 4-5 days, depending on how fast the energy flows. Your candle comes to you already dressed and blessed with oils and herbs, ready to burn.
All prices listed include candle, blessing, personal prayer time, and shipping.
| | |
| --- | --- |
| Block Buster Fixed Candle - Breaks through walls.  $18.00 | Bitch Be Gone Fixed Candle - Gets rid of bitches as well as whatever you're bitching about.  $18.00  |
| Break Up Fixed Candle - To cause a couple to break up.  $18.00. | Chupacabra Fixed Candle - Kicks all the ass. For when you are tired of abuse. $18.00 |
| Cleo May Fixed Candle - Female protection and prosperity.  $18.00 | Cut and Clear Fixed Candle - Breaks the ties that bind.  $18.00 |
| DUME Fixed Candle - Death Unto Mine Enemies.  $18.00 | Guardian Angel Fixed Candle - Protection during times of fear or danger.  $18.00 |
| Happy Home Fixed Candle - Draws a new home to you or improves happiness in the one you have.  $18.00 | Hot Foot Fixed Candle - Removes unwanted, intrusive people. Motivation.  $18.00 |
| Love Honey Fixed Candle - Draws in love, especially male-male.  $18.00 | St Michael Fixed Candle - Slayer of demons and other beasties.  $18.00 |
| Our Lady of Guadalupe Fixed Candle - Honors the Lady and brings her blessings to you.  $18.00 | Quick Magic Fixed Candle - Speeds up magic, which you need it NOW.  $18.00 |
| Road Opener/Abre Camino Fixed Candle - Removes obstacles to success.  $18.00 | Satyr Fixed Candle - Celebrating the Satyr and his playful and randy joy.  $18.00 |
| Shut Your Mouth Fixed Candle - Ends rumor spreading and malicious gossip.  $18.00 | Trabajo/Get a Job Fixed Candle - To find the perfect job.  $18.00 |
| Bewitching Fixed Candle - Brings others under your glamoury.  $18.00 | Black Cat Fixed Candle -  For gambling & money luck.  $18.00 |
| CTFO Fixed Candle -  CTFO is an acronym for "Chill The F*** Out." For when people just need to chill.  $18.00 | Chuparrosa Fixed Candle - Draws a man to a woman.  $18.00 |
| Come to Me Fixed Candle - Draws what you desire to you.  $18.00 | Demon Be Gone Fixed Candle - Banishes evil (and demons).  $18.00 |
| St. Expedite Fixed Candle - To speed up a process.  $18.00 | Hand of Glory Fixed Candle - Unlocks closed doors, creates opportunity, works 5 goals at once.  $18.00 |
| Healing Fixed Candle - Healing on all levels, peace, recovery.  $18.00 | Justo Juez Fixed Candle - The "Just Judge" brings justice to any situation, especially legal.  $18.00 |
| Lucky Dog Fixed Candle - Brings good luck and good fortune from unexpected places.  $18.00 | Money Drawing Fixed Candle - Draws in money from sources known and unknown.  $18.00 |
| Pay Me Fixed Candle - To get money that is owed to you.  $18.00 | Reversing Fixed Candle - Reverses the energy of a situation that is moving in the wrong direction.  $18.00 |
| Santa Muerte Fixed Candle - Invokes the Holy Death, brings endings.  $18.00 | Showers of Gold Fixed Candle - Brings prosperity and fast money.  $18.00 |
| Spellbreaker Fixed Candle - Breaks a spell and removes unwanted influences.  $18.00 | Uncrossing Fixed Candle - To remove a curse, hex, or other bad energy.  $18.00 |
| A Wish Come True Fixed Candle - To grant a wish.  $18.00 | All Seeing Eye Fixed Candle - Helps you (or others) to see what they need to see.  $18.00 |
| Control Fixed Candle - Used to gain control over someone else.  $18.00 | Bend Over Fixed Candle - Used to get another to submit to your will.  $18.00 |
| St Francis Cabrini Fixed Candle - Assist in immigration issues.  $18.00 | FF Fairies Fixed Candle - Forces the FF fairies to bring back your stuff they took.  $18.00 |
| 7 African Powers Fixed Candle - For love, money, luck, health, protection, power and success. $18.00  |   La Siete Potencias, Spanish, Fixed Candle  $18.00 |
| Justice Fixed Candle - To prevail in legal issues.  $18.00 | Marie Laveau Fixed Candle - Honors Marie Laveau.  $18.00 |
| White Hot Passion Fixed Candle - Brings passion to your life.  $18.00 | St. Jude Fixed Candle - Asks for intercession from the Patron Saint of Lost Causes.  $18.00 |
| Cast Out Evil Fixed Candle - Banishes evil entities and people.  $18.00 | Open the Door Fixed Candle - Unlocks a deadlock, creates opportunity where there is none.  $18.00 |
| Fiery Wall of Protection Fixed Candle - Highest level of protection.  $18.00 | Fairies Fixed Candle - Welcomes and honors the fairies.  $18.00 |
|  High John Fixed Candle - Honors & invokes High John the Conquerer.  $18.00 |   Chuparrosa, Spanish, Fixed Candle - Attracts a partner to a female.  $18.00 |
| Lilith Fixed Candle - Honors Lilith - Female empowerment.  $18,00 | Road Opener/Abre Camino Fixed Candle - Removes obstacles to success.  $18.00 |
| Whoop Ass Fixed Candle - For when you need to open a can of whoop ass.  $18.00 | Bring Back My Lover Fixed Candle - Brings back lost love.  $18.00 |
Please follow and like us: