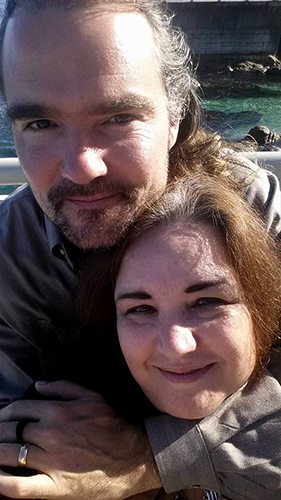 Two Sisters Botánica Online Store is owned and operated by authors and public speakers, Katrina and Eric Rasbold. When they conceived the business model for Two Sisters, they gave mindful consideration to ideas like, "What magical items do we use most often? What items are most sacred to us?" It is from those meditations that the inventory of Two Sisters derived.
Katrina and Eric teach workshops at local events, as well as at the famous Pantheacon gathering in San Jose, California. They co-wrote the Bio-Universal Energy Series, exploring the movement of magical energy and the scientific premises behind what speeds it up and what slows it down.
Two Sisters Botánica is a favorite vendor booth at Sacramento Pagan Pride and the annual PanGaia Festival in Fair Oaks, CA.
What is different about Two Sisters Botánica? Unlike most Botánicas and magical stores, the owners make most of the inventory themselves. What they do not personally produce, they purchase from carefully selected suppliers who understand the importance of how the items are harvested, packaged, and handled. The greatest of care goes into the inventory at Two Sisters Botánica.
Raised around Appalachian magic, Katrina Rasbold began her magical training in England in 1981 and received her third level Craft initiation in 1991. Eric began his pursuit of magical studies in Korea in 1995. He and Katrina developed the CUSP (Climbing Up the Spiral Pathway) spiritual pathway in 1997 and have co-authored a total of ten books on the subject (The Bio-Universal Energy Series), starting with Energy Magic Compleat. Both have studied a wide range of spiritual paths academically and experientially.  They each hold a Ph.D in Religion.
Katrina studied HooDoo and Brujeria under several different mentors. Eric's focus lies in ancient Aztec magical structures and their influence on the spiritual practices of Mexico. Together, Eric and Katrina blend the power of Black Belt tradition rootwork, Appalachian Folk Magic, Wicca, and Brujeria into a productive and rewarding magical process that pumps through the heart and spirit of Two Sisters Botánica.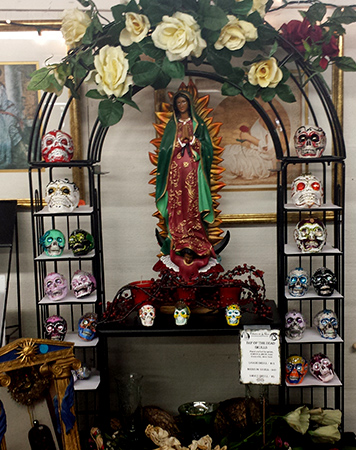 Katrina is the author of thirty-two books, both fiction and nonfiction, including the ten she wrote with Eric. Her forthcoming book, The Rose, The Rooth, & the Dowsing Rod: An Exploration of Folk Magic in the American South is through Llewellyn Worldwide publishers.
Eric's popular YouTube channel features instructional videos on a variety of magical subjects.
Eric and Katrina have devoted their lives to full immersion into the fields of magic and spirituality. They are excited to share these beautiful, "needful" products with you and to hear how they enriched your life. They are onsite to help you find the tools you need and learn how to use them to effectively create the outcomes you desire.
Katrina and Eric personally create, bless, and empower most of the items available through Two Sisters Botánica.
We offer pictures, jewelry, pendulums, polished stones, curios, books, candles and candle holders, working bottles, aroma beads, wands, loose and stick incenses, smudging tools, handmade goats milk soaps, gris gris, bags, powders, dirts, and other magical tools.